SSNS Home > Senior Years > Curricula 9-12 > Grade 11 > Canadian History > Remembrance Day > Normandy Soldiers > Campbell
John Ramage Campbell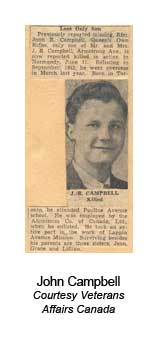 Campbell, John Ramage, Toronto, Ontario. Military Service: Rifleman, Queen's Own Rifles of Canada. Reg. No. B/134348. Shot at point blank range on 17 June 1944 just outside Mouen by members of the 12th SS Engineering Battalion, which was under the command of SS Major Siegfried Müller, 12th SS Panzer Division, "Hitler Youth". See PRU, File 04-93390 and Conduct Unbecoming, 120-121.
Additional Biographical Information:
John Campbell was a son of John R. and Emily Campbell of Toronto, Ontario.
Date of Death: 17 June 1944. For casualty details, see Canadian War Graves Commission. Buried at Beny-sur Mer Canadian War Cemetery, Reviers, Calvados, France. Grave Reference: XVI.C.9.