SSNS Home > Senior Years > Curricula 9-12 > Grade 11 > Canadian History > Remembrance Day > Normandy Soldiers > Brown, G.A.
George Andrew Brown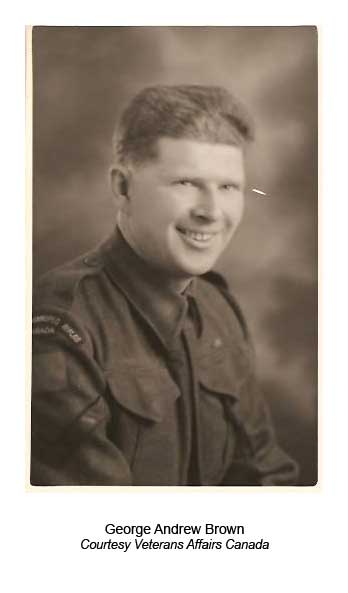 Brown, George Andrew, Baldwinton, Saskatchewan. Military Service: Corporal, Royal Winnipeg Rifles, murdered by SS troopers and military police on 8 June 1944 in a field just north of the Caen-Fontenay road at the order of SS Lieutenant Colonel Wilhelm Mohnke, Commander, 26th Panzer Regiment, 12th SS Panzer Division, "Hitler Youth". See PRU, File 03-96484 and Conduct Unbecoming, 90-94.
Additional Biographical Information:
Son of George W. and Hazel V. Brown of Baldwinton, Saskatchewan.
Date of Death: 8 June 1944. For casualty details, see Canadian War Graves Commission. Buried at Beny-sur Mer Canadian War Cemetery, Reviers, Calvados, France. Grave Reference: XIII.H.10.