SSNS Home > Senior Years > Curricula 9-12 > Grade 11 > Canadian History > Remembrance Day > Canadian Engineers > Davies
Frederick Charles Davies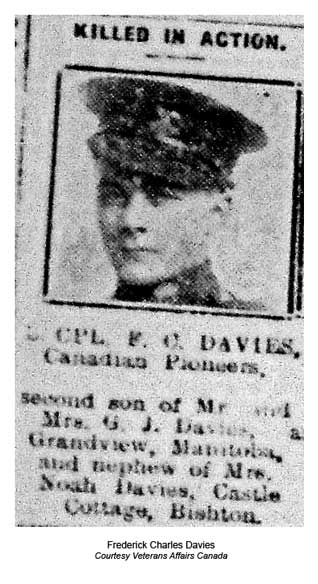 Davies, Frederick Charles, Grandview, Manitoba, formerly New Port Wells, England. Occupation: Printer. Military Service: Lance Corporal, Reg. No. 718608, 107th Canadian Pioneer Bn., Attestation Papers. Diary Reference: "We were heavily shelled at 6.30 this morning. Our house was blown up, and Corp 'Davies' was killed," 4 Mar '18.
Additional Biographical Information:
Lance Corporal Frederick Davies was the son of Mr. G.J. and Mrs. L.M. Davies of Grandview, Manitoba.
Killed in Action, 718608, L/C. Davies, F. C. 4/3/18. War Diary of the 107th Battalion, Canadian Pioneers, March 1918, Appendix B.
Date of Death: 4 March 1918. See casualty details, Commonwealth War Graves Commission. Buried at Bully-Grenay Communal Cemetery, British Extension, Bully-Grenay, Pas de Calais, France. Grave Reference: V.A.II.